Hospitality service
You can contact our organisation team by e-mail for any question  with regard to your participation in the races, your stay in Bruges, or to communicate and confirm your travel arrangements.
Do not hesitate to send your questions in English, Dutch, French or German to our hospitality team at info@bruggeboatrace.be.
ROWERS DINNER

Rowers arriving in Bruges on Friday evening are graciously invited to the Rowers Dinner on Friday evening in our Club House. It is a great opportunity to meet with all rowers travelling in from all corners and a fun way to get your Bruges weekend off to a good start in a friendly athmosphere. No better way to get in the mood for a great Brugge Boat Race rowing weekend!Last year some 250 rowers from all participating European countries had dinner together. We kindly ask you to confirm the number of team members who intend to attend the dinner with your team registration.
Hospitality desk
A dedicated hospitality desk will be open throughout the event. This hospitality desk will be located on the first floor of our Club House (close to the bar).
Club house
Our Club House offers a view over the final 500 meter of the race track. In our Club House, on the first floor, you will also find:
a balcony overlooking the finish line
a bar offering a choice of refreshments, local brews and a limited offering of  snacks
spacious, comfortable sitting areas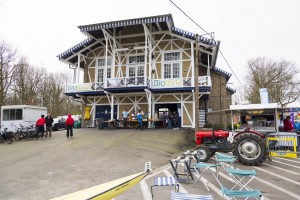 ---
TEBO Rowing will be at the Brugge Boat Race with the latest technical rowing gear and accessories. Check them out!